IP Series U/I SIGNAL ISOLATED TRANSMITTER
Signal isolator,DC SIGNAL ISOLATED TRANSMITTERS
ALL
1.1DC24V or AC220V power supply, provide isolated power distribution for on-site transmitters, and realize the conversion of voltage, current, mV and other signals. 1.2 Input terminal interface current source, two-wire system, three-wire system transmitter universal;
Related Products
IP Series U/I SIGNAL ISOLATED TRANSMITTER
1. Functions:
1.1DC24V or AC220V power supply, provide isolated power distribution for on-site transmitters, and realize the conversion of voltage, current, mV and other signals.
1.2 Input terminal interface current source, two-wire system, three-wire system transmitter universal;
1.3 The internal use of efficient magnetoelectric isolation technology, the input, output, power supply is isolated from each other, with high precision, high linearity, low temperature drift and other characteristics.
1.4 IP series passive isolators receive dc current or dc voltage signals from the field, and output 4-20ma current signals separately after interference suppression. 2 - wire circuit power supply, no external power supply
Features: DIN rail independent installation; Input, output, power three port high reliability isolation.
2. SPECIFICATION
2.1 Input impedance: Current input: ≤100Ω; voltage input: ≥300KΩ
2.2 output load resistance: RL ≤ 500Ω (when the output is a current signal)
RL ≥ 1KΩ (when the output is a voltage signal)
2.3 parameters
Power supply:DC24V, ±10%
Current consumption: ≤30mA (one input and one output, 24V power supply, 20mA output)
≤50mA (one input and two output, 24V power supply, 20mA output)
≤60mA (two in two out, 24V power supply, 20mA output)
Accuracy: 0.1% RO, 0.2%RO, 0.5%RO,
Temperature coefficient: 0.005% RO./°C (-20°C~+55°C)
Insulation strength: 1500V AC / 1min (between input, output and power)
Insulation resistance: ≥100MΩ (between input, output, and power)
2.4 Operating temperature : -20 ~ +55 ° C
2.5 Electromagnetic compatibility: in line with GB/T 18268 (IEC61326-1)
2.6 Applicable field devices: two-wire transmitter, current source, voltage signal output device.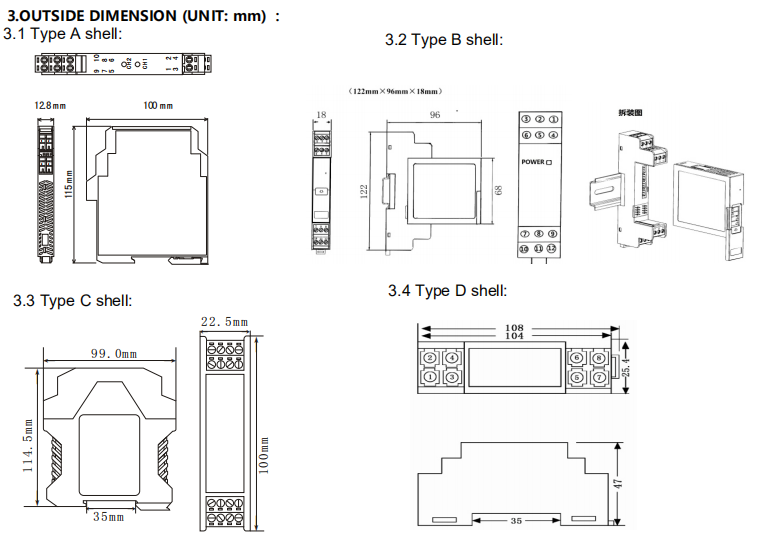 4.SCHEMATIC CIRCUITRY & CONNECTION DIAGRAM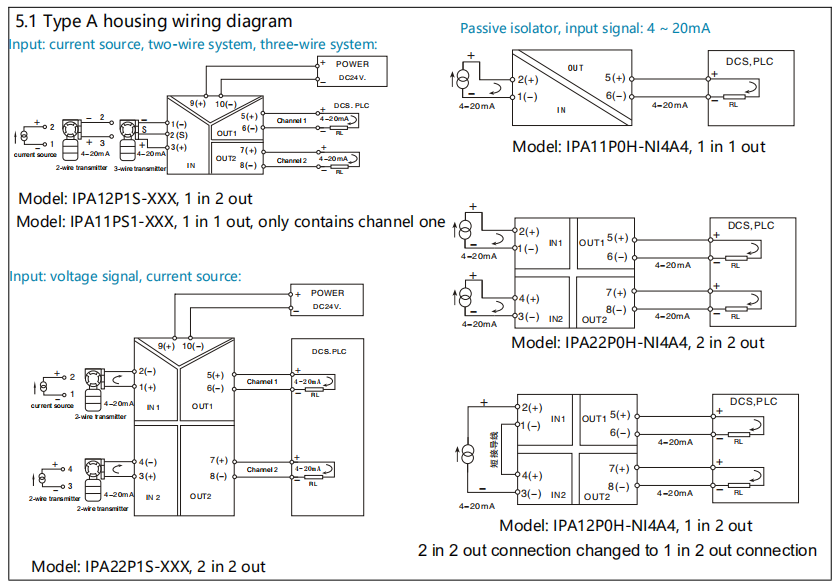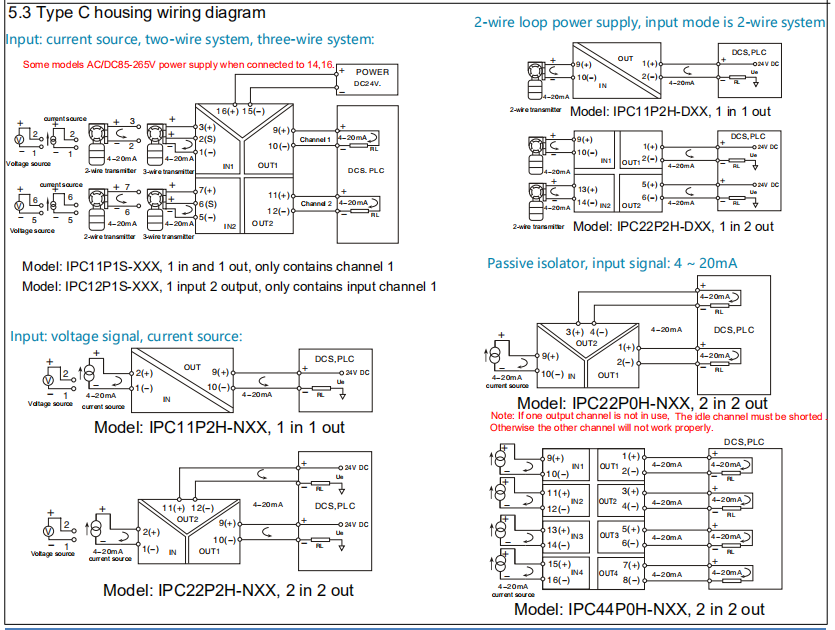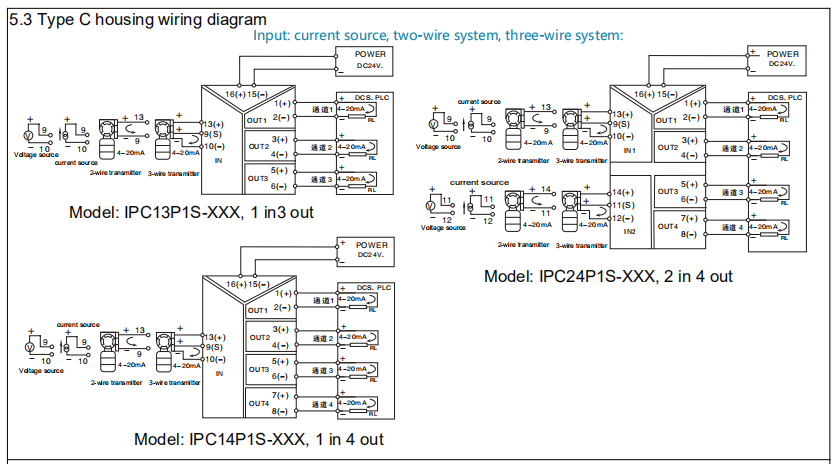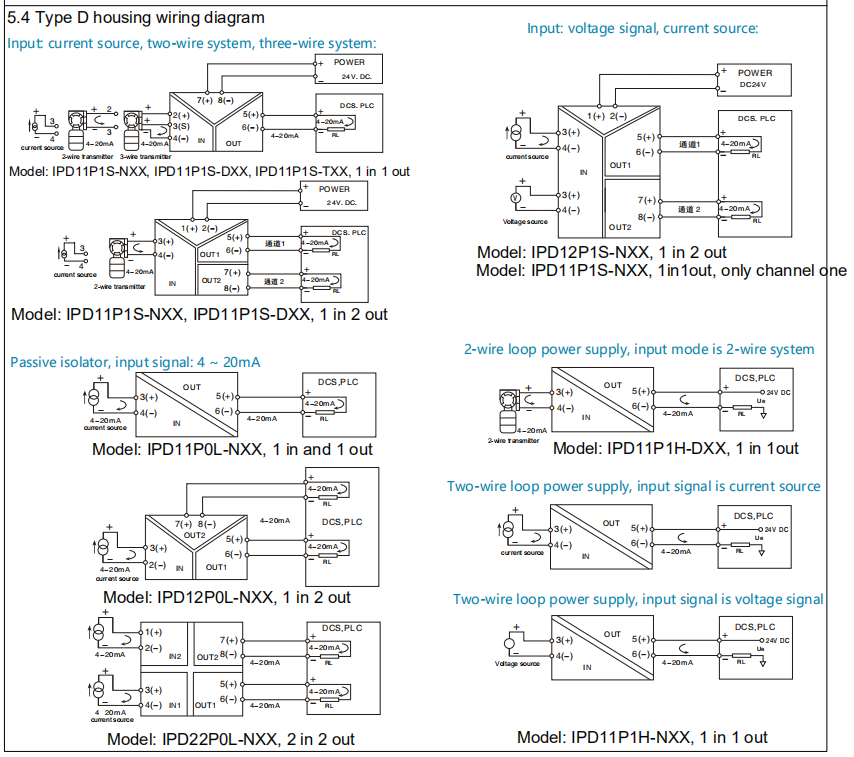 2.Ordering information: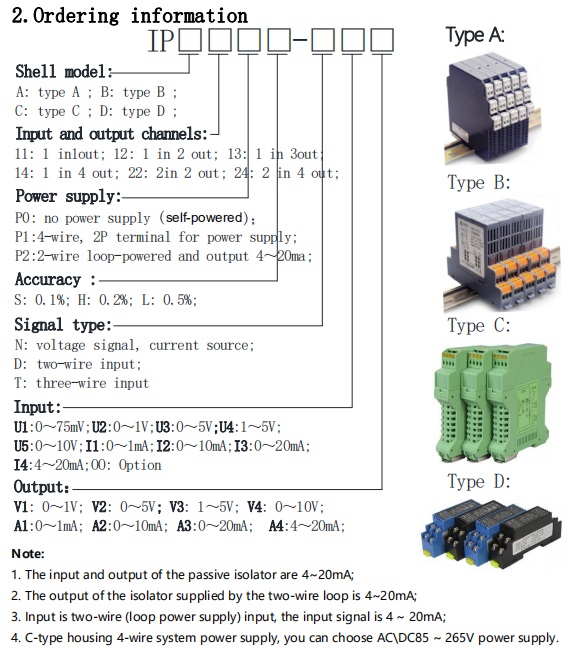 4. Main model:
4.1 Type A shell models:
channels

self-powered P0

0.2%F.S

wire,P1

0.1%F.S

1 in 1 out

IPA11P0H-NI4A4

IPA11P1S-XXX

1 in 2 out

IPA12P0H-NI4A4

IPA12P1S-XXX

2 in 2 out

IPA22P0SH-NI4A4

IPA22P1S-XXX
4.2 Type B shell models:
channels

self-powered P0

0.2%F.S

4-wire P1

0.1%F.S

2-wire P2

0.2%F.S

1 in 1 out

IPB11P0H-NI4A4

IPB11P1S-XXX

IPB11P2H-XXA4

1 in 2 out

IPB12P0H-NI4A4

IPB12P1S-XXX

IPB12P2H-XXA4

2 in 2 out

IPB22P0H-NI4A4

IPB22P1S-XXX

IPB22P2H-XXA4
4.3 Type C shell models:
channels

self-powered P0

0.2%F.S

4-wire P1

0.1%F.S

2-wire P2

0.2%F.S

1 in 1 out

IPC11P1H-NI4A4

IPC11P1S-XXX

IPC11P1H-XXA4

1 in 2 out

IPC12P1H-NI4A4

IPC12P1S-XXX

IPC12P1H-XXA4

1 in 3 out

-

IPC13P1S-XXX

-

2 in 2 out

IPC22P1H-NI4A4

IPC22P1S-XXX

IPC22P1H-XXA4

4 in 4 out

IPC44P1H-NI4A4

IPC24P1S-XXX

-
4.4 Type D shell models:
channels

self-powered P0

0.2%F.S

4-wire P1

0.1%F.S

2-wire P2

0.2%F.S

1 in 1 out

IPD11P1H-NI4A4

IPD11P1S-XX

IPD11P2H-XXA4

1 in 2 out

IPD12P1H-NI4A4

IPD12P1S-XX

-

2 in 2 out

IPD22P1H-NI4A4

IPD22P1S-XX

-