FPF FREQUENCY TRANSDUCER
Power transducer
FP series power Transducer
The FPF type frequency transmitter uses the latest electronic circuit to generate a standard frequency with a quartz crystal, and converts the difference after comparison with the input frequency into a DC analog power output. Using quartz crystal and drift-free digital circuit, the frequency transm
Related Products
1.Introduction:
The FPF type frequency transducer uses the latest electronic circuit to generate a standard frequency with a quartz crystal, and converts the difference after comparison with the input frequency into a DC analog power output. Using quartz crystal and drift-free digital circuit, the frequency transmitter has high accuracy, good temperature performance and stable and reliable operation.
The DC output of the transducer is proportional to the change of the input measured frequency, and the frequency offset with the center frequency of 50Hz and 60Hz can be accurately measured. And high-resolution frequency measurements can be made over a narrow frequency range. The input and output of this type of transmitter have more specifications for users to choose, and it is convenient to cooperate with the indicating instrument and RTU.
2.Specification
Accuracy ( 23±3℃) :

0.25% RO + 0.3°

Maximum output load:

DC current mode : maximum 10V drop

DC voltage mode : maximum 5mA drive

Dielectric strength:

AC 2KV 1 minute between terminals

AC 2.6KV 1 minute / terminals to case

Surge and impulse test:

ANSI C37.90 / 1989,IEC 255-3 (1989) 4 KV 1.2 x 50 us

Input burden:

Current less 0.2 VA; voltage less 0.1 VA

Response time & ripple:

≤400 ms for step change 0-99%;ripple less 0.5% ro peak to peak

Frequency:

50 Hz; 60 Hz; 400 Hz

Waveform:

Watt - 20% 3rd, Var - sinusoidal

Stability:

Temperature range ( -20 to +65°C) long term stability / year

Maximum 60 ppm / °C less 0.1% draft / year typicallyr typically

Storage condition:

Temperature range -25 to 70°C, RH 20 to 95% non condensed

Operating condition:

Temperature range -20 to 65°C, RH 0 to 99% non condensed

Magnetic field effect :

< 0.01% under 100 ampere turns at 1M center

Power dissipation:

< 3.5 VA

3.Dimensional Drawings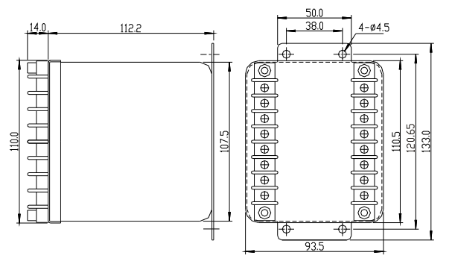 4.Terminal Connection: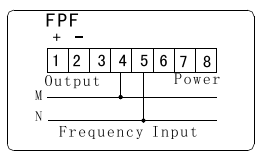 When signing the order contract, the required model and specifications should be specified in detail. The selected model and specifications should be filled in with the code in the following format.
Example 1: FPF-F?1-P2-O8-B2
Frequency transmitter
Input: 49~51Hz
Auxiliary power supply: AC 220V
Output: 0~5V/49~51Hz
Example 2: FPF-F1-P2-O13/B3 output -5V~0V~+5V
Frequency transmitter
Input: 48~52Hz
Auxiliary power supply: AC 220V
Output: -5V ~0V~ +5V / 48~50 ~ 52Hz