FPWH/FPKH WATT/WATTHOUR & VAR/VARHOUR TRANSDUCER
Power transducer
FP series power Transducer
Applied Standards & Rules: Measuring and conversion: IEC 688 / 1992 - 04; Dielectrical strength : IEC 688 2KVac / 1 min; Surge and Impulse test : ANSI C37.90 / 1989; IEC 255-3 (1989) 4KV 1.2 x 50 us;
Related Products
1.Introduction:
FPWH type active energy transmitter, FPKH type reactive energy transmitter is an instrument for measuring active and reactive energy, FPWWH type active power / active energy, FPKKH type reactive power / reactive power combined transmitter It is a dual-function instrument that can measure both active (or reactive) power and active (or reactive) power. It is an auxiliary instrument for energy metering, energy-saving automation and computer electricity billing.
FP series electric energy transmitter technical indicators fully comply with the requirements of JJG 596-89 "Electronic energy meter", the relative error is less than 0.5%, and has excellent temperature characteristics and long-term stability, coupled with electric energy display recording device, can be used In the grid dispatching system, it is also an ideal solid-state electric energy meter.
The transmitter is suitable for single-phase, three-phase (balanced load and unbalanced load) lines with frequency of 50Hz, 60Hz and special frequency. The electric energy is pulsed output with two types of optocoupler open collector or relay contact to adapt to different RTU and power recording device. The digital output corresponds to the active (or reactive) energy measured by the input. The output lead is four wires, and the bidirectional digital output outputs electrical energy in both positive and negative directions.
Main models:
FPWH201 3 phase 3 wires WattHour
FPKH201 3 phase 3 wires VarHour
FPWH301 3 phase 4 wires WattHour
FPKH301 3 phase 4 wires VarHour
FPWWH201 3 phase 3 wires Watt & WattHour
FPKKH201 3 phase 3 wires Var & VarHour
FPWWH301 3 phase 4 wires Watt & WattHour
FPKKH301 3 phase 4 wires Var & VarHour
2.Specification
Accuracy ( 23±3℃) :

0.2% reading / PF ± 0.05% RO

Maximum output load:

DC current mode : maximum 10V drop

DC voltage mode : maximum 5mA drive

Dielectric strength

AC 2KV 1 minute between terminals

AC 2.6KV 1 minute / terminals to case

Output of WH & VarH

Open collecter type, maximum 30V / 30mA

Surge and impulse test

ANSI C37.90 / 1989,IEC 255-3 (1989) 4 KV 1.2 x 50 us

Maximum input over

Current related input

Voltage related input

1A / 5A

10A

4 x rated / continuous

2 x rated / continuous

1.5 x rated / continuous

10 x rated / 10 seconds

25 x rated / 1 second

2 x rated / 10 seconds

50 x rated / 1 second

50 x rated / 0.5 second

80 x rated / 0.5 second

Input burden

Current less 0.2 VA; voltage less 0.1 VA

Response time & ripple

≤400 ms for step change 0-99% ripple less 0.5% ro peak to peak

Frequency

50 ± 2 Hz; 60 ± 2 Hz; 400 ± 5 Hz ( Watt only )

Waveform

Watt :- 2% 3rd, Var: - sinusoidal

Stability

Temperature range ( 20 to 26℃), long term stability / year

Maximum 70 ppm /℃, less 0.2% draft / year typically

Storage condition

Temperature range -25 to 70℃, RH 20 to 95% non condensed

Operating condition

Temperature range -20 to 65°C, RH 0 to 99% non condensed

Magnetic field effect

< 0.01% under 100 ampere turns at 1M center

Power dissipation

< 7 VA



3.Outline dimension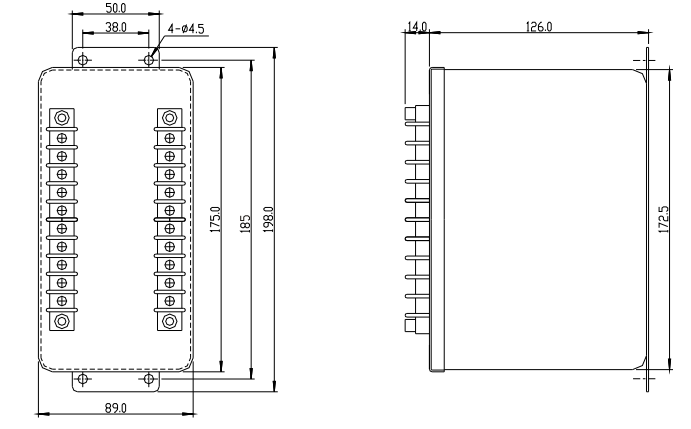 4.Terminal Connection: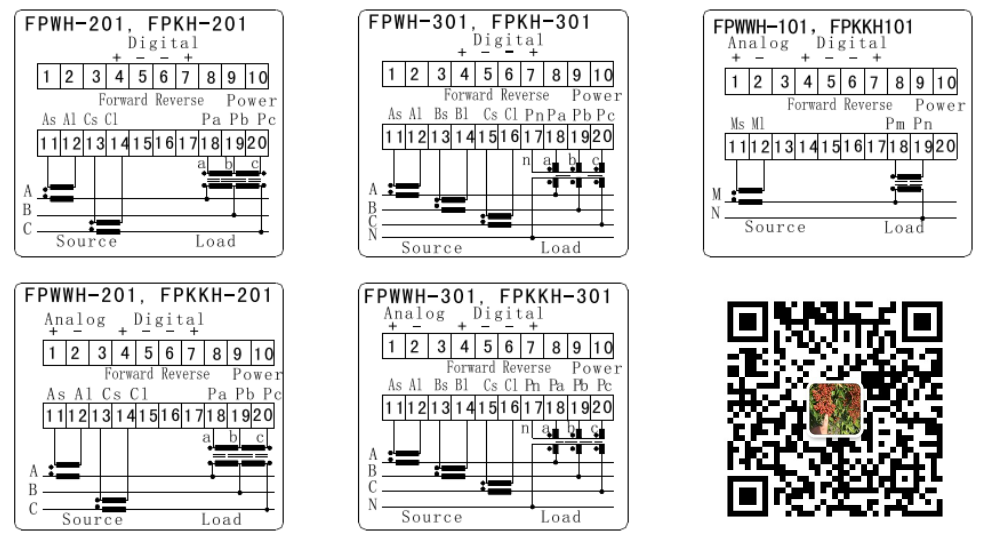 1.Order form:
FPWH201 -□-□-□-□ - □ 3 phase 3 wires WattHour
FPKH201 -□-□-□-□ - □ 3 phase 3 wires VarHour
FPWH301 -□-□-□-□ - □ 3 phase 4 wires WattHour
FPKH301 -□-□-□-□ - □ 3 phase 4 wires VarHour
FPWWH201-□-□-□-□-□/□ 3 phase 3 wires Watt & WattHour
FPKKH201-□-□-□-□-□/□ 3 phase 3 wires Var & VarHour
FPWWH301-□-□-□-□-□/□ 3 phase 4 wires Watt & WattHour
FPKKH301-□-□-□-□-□/□ 3 phase 4 wires Var & VarHour
Vn An Fn Pn On Xn/Yn Example : FPWWH201-V1-A2-F2-P1-O3-X1
2. Input & Output parameters:
Vn :

Voltage input

Vn

rating range

V1

100
80-120VV

V2

220V

180-300V

V3

400V

320-450V

Vy

Specified

On : Output

An :

Current input

An

rating range

A1

1A

0-1.2A

A2

5A

0-6A

A3

10A

0-12A

Ay

Specified

O1

0-±1mA

O2

0-±20mA

O3

4-20mA

Fn :

Frequency input

Fn

rating range

F1

50Hz

45-55Hz

F2

60Hz

55-65Hz

F3

400Hz

Fy

Specified

O4

0-±5mA

O5

0-±10mA

O6

4-12-20mA

Pn :

Auxiliary power

Pn

rating range

P1

AC110 V

120 V ± 15%

P2

AC220 V

240 V ± 15%

Ps

Internal Power

Py

Specified

O7

0-±1V

O8

0-±5V

O9

0-±10V

PDn

rating range

PD1

DC110V

120 V ± 15%

PD2

DC220V

240V± 15%

PD3

DC24 V

24 V ± 20%

PDy

Specified

O10

2-10V

O11

1-5V

O12

1-3-5V

Xn : Standard pulse

output for uni-direction

Xn

rating

X1 / X3

1 pulse / wh or varh

X2 / X4

10 pulse / wh or varh

X1, X2, Y1, Y2 : open collector type

X3, X4, Y3, Y4 : reed relay type

Yn : Optional pulse

output for bi-direction

Yn

rating

Y1 / Y3

1 pulse / wh or varh

Y2 / Y4

10 pulse / wh or varh
Model

Application system

Watt

Var

Elements - Connection

FPWWH201

FPKKH201

2E

3 phase 3 wires, unbalance

FPWWH301

FPKKH301

3E

3 phase 4 wires, unbalance
Note
1. Standard output calibration
bipolar 0 to ± 1mA for 0 to ± D Watts or Vars
4-12-20mA for -D to 0 to +D Watts or Vars
2. External power mode suitably for all output types
Internal power mode, only suitably for 0-1mA / 0-20mA / 0-1V / 0-5V / 0-10V output